Wedge wire screen is made with high-quality stainless steel wire strip processing into a trapezoidal section, winding through automated production equipment, on the support bar, and then processed by cutting, welding and other processes to form a screening product. The cross-section of the screen strip is trapezoidal, the slots at lower part is wider than that of upper part of the screen. It has easy leakage, wear and corrosion resistance and other characteristics. It is a rigid screening with high strength, stiffness and load capacity, can be made into various shapes of filters. Widely used in many industries in the screening, filtering, dehydration, mud removing and other operations.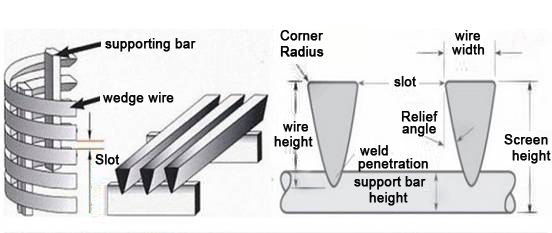 Material: Mainly high-manganese steel wire, stainless steel wire, steel wire and so on.
Wedge Wire dimensions: the shape of the strip can be long rectangle, short rectangle, and trapezoid. The most common is trapezoidal. Common Size ( W × H ): 1.5 × 2.2mm, 1.5 × 2.5mm, 2.3 × 3.6mm, 1.8 × 4.3mm, 3.0 × 4.7mm and so on.
Slot dimensions: Referring to the spacing between the two strips , usually:0.1-5 .0 mm.
Supporting bar choices:
• Triangle wire.
• Round bar.
• Rectangular bar.
• Wedge wire.
The most common shape is also the trapezoid. Common Size ( W × H ): 2.3 × 2.7mm, 2.3 × 3.6mm, 3.0 × 4.7mm, 3.7 × 5.6mm, 3.3 × 6.3mm and so on. Round support bar diameter: 2.5-5mm.Or as required.
Specifications of wedge wire screen panels
• Panel width: 500 mm - 2000 mm.
• Panel length: 500 mm - 3000 mm.
Applications of wedge wire screen panels
Wedge wire screen panels have a wide range of applications, the main applications are sieving and filtration. It can also be used as decorative materials in some buildings. The detailed application fields are as follows:
• Vibrating screen decking.
• Surface water intake screens.
• Fish diversion screen panels.
• Hatchery screens.
• Grain drying screen.
• Malt kin or germination floors.
• Decorative materials.
| | |
| --- | --- |
| Wedge wire screen panel for drainage cover | Wedge wire screen panel for grain productio |
| Wedge wire screen panel for floors | Wedge wire screen panel for vibrating screen |